Where's the best place for a Da Nang coffee? That's like asking where's the best fish sauce; it depends on what you like. And while there are probably hundreds of good coffee shops in Da Nang (and lots of bad ones too), these all stand out for a reason. Here's a few of my picks for best coffee in Da Nang.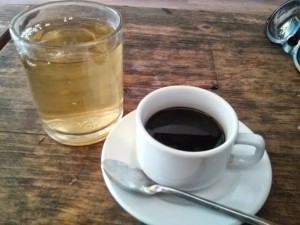 Coffee with a view
Nui Da on the beach side, no number but it's on Tho Quang in Son Tra district. Yeah it's a bit of a hike (figuratively for the trip there and quite literally once you arrive), but the higher you go, the better the view. Be sure to order at the bottom so you don't make the poor waiter run up and down the stairs twice. Go at night when it's all lit up with fairy lights for a magical date spot.
Dark, rich, on the sidewalk
Near the Han Market, at 48 Nguyen Thai Hoc, about halfway between Tran Phu and Yen Bai, there's a lady selling coffee on the sidewalk. It's good. It's so good I couldn't believe what I was drinking. I starting chatting to her, finally gathering the courage to ask: "So, what's your secret? How is your coffee so good?" She smiled and replied, "My secret is, I buy good coffee." Touche. Not content to walk away completely empty-handed, I asked if I could buy some of the coffee she uses. So she hopped on her motorbike to go home and get some. Of course it doesn't taste quite the same when I make it at home, but WOW what a great coffee. Get there before 10 am as she closes early for lunch.
In-house grind
Not quite a fad in Da Nang, but something popping up more and more is coffee shops that grind their own beans on-site. A really good place to try is Tam Da, on the corner of 82 Chau Thi Vinh Te and what Google is calling Kiet 43 Ngu Hanh Son on the beach side. They have a few different coffees on the menu, but it's not overwhelming. On the city side, try Milano at 123 Nguyen Thi Minh Khai. More expensive than your average sidewalk coffee, but worth it. Side note: on Buddha days (1st & 15th of the lunar month), there's an awesome veggie my quang shop next to the coffee shop. Get there by 9 am because they always run out.
Drink and Buy
Some places produce their own coffee, which they sell in the coffee shop. And I'm not talking about Trung Nguyen, which isn't from Da Nang anyways. I'm talking about a local coffee company, with stuff you can't get anywhere else. Try Hoang Gia at 19 Ham Nghi. My friend swears it's the best coffee in Da Nang.
Coffee + Nature
Cafe NiA at 3/12 Phan Thanh Tai has an actual fish pond (yes, with real fish) in the middle of the coffee shop. It's just begging for selfies, and the majority of guests are happy to oblige. It can get quite crowded in the morning, so come by in the afternoon, sit pond-side under the cabana and enjoy a bit of nature right in the middle of the city.
Want to check out some other great coffee shops in Da Nang? Book a morning tour!